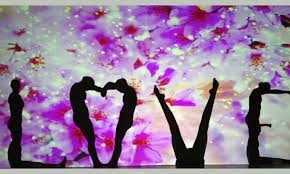 FREE creative hands-on activities for kids beginning at 2!
FREE post-show workshop!
FREE parking anywhere on campus!
Golden Buzz winners on America's Got Talent – The Champions, THE SILHOUETTES present LOVE HAPPENS, a shadow-dance story told only through shaped images created with dancers' bodies, filled with all kinds of love – friendship, family, pets, romantic love – even the love of chocolate! The performance can be enjoyed by Deaf children and those with limited or no English as there are no spoken words in the show. An ASL interpreter will be sign for the curtain speech before the performance and at the end during a FREE optional "Power of Yes" workshop in which audience members are invited on stage to learn to make shadow stories, and much more.
FREE tickets available for Aaron's Acres families and staff. For FREE tickets, simply email Barry.Kornhauser@Millersville.edu.