Aaron's Acres 20th Anniversary 

Two decades down, many more to come!
Aaron's Acres is excited to be celebrating twenty years of operation! Thanks to your support, Aaron's Acres has gone from supporting only eleven campers in 1998 to over 200 campers per year! We think that that's worth celebrating, so we've teamed up with our friends, partners, and donors to set up a series of monthly events for our friends and families to share this milestone with us! Be sure to join us at our final event of the season, Aaron's Acres 20th Anniversary Gala! A detailed schedule of events can be found below. Golf tournament, Hershey 10k and Gala are by registration only.
$20,000 for 20 Years of Aaron's Acres
In addition to our event series, we are looking to raise $20,000 to support our year-round programs! Join us in our #20for20 campaign!This money has the ability to provide recreation programing for over 200 children with developmental disabilities, programs that allow children experiences like horseback riding, swimming, music and animal therapy, and much, much more! When you give to Aaron's Acres 20th Anniversary Campaign, you are providing summers of smiles for years to come! We encourage our supporters to share their stories with the #20for20! Thank you in advance for your support!
Donate to our #20for20 campaign here!
Event Schedule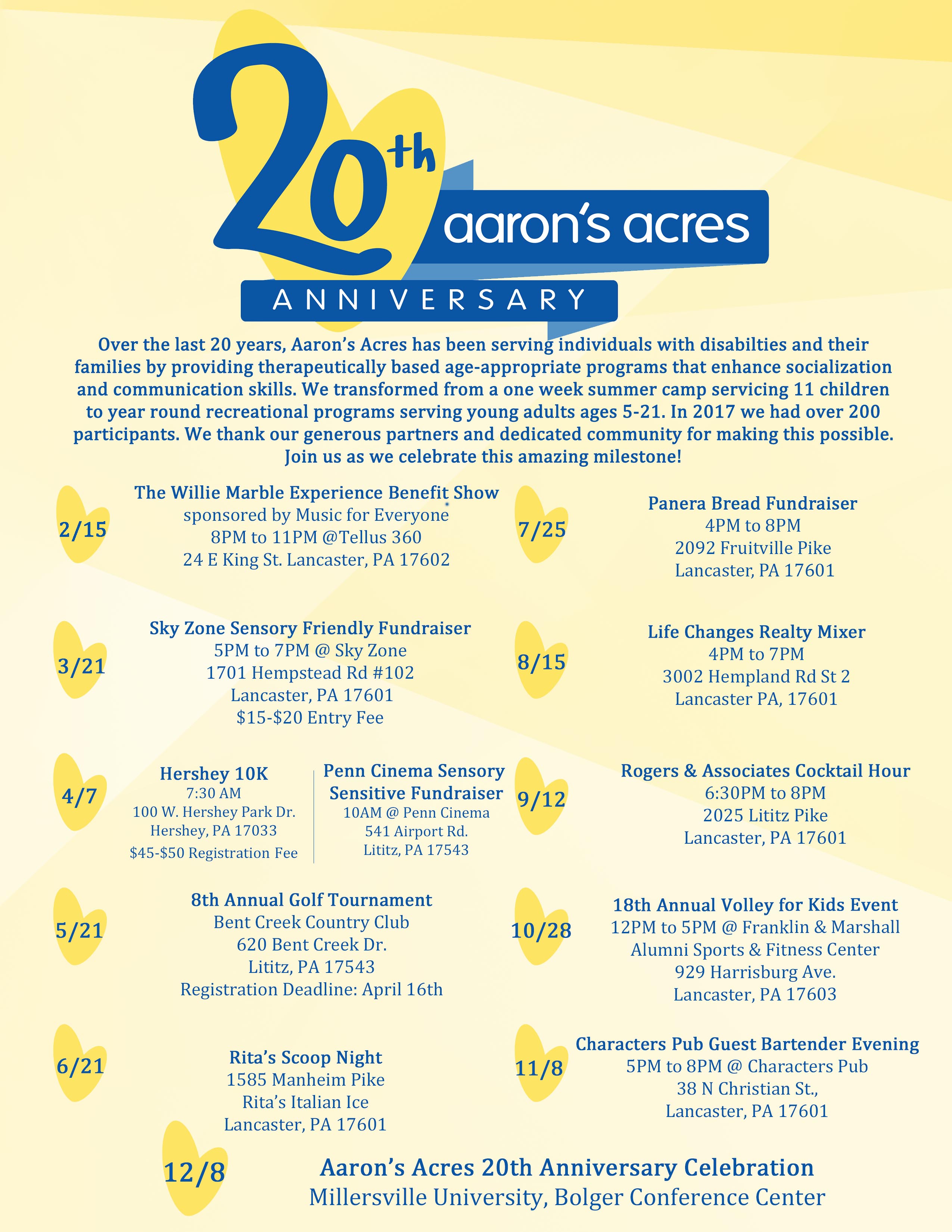 Rita's Scoop Night
On Thursday, June 21 Aaron's Acres will be taking over the Rita's Italian Ice shop in the Granite Run Shopping Center. Join us to have a sweet treat in the summer sun while contributing to Aaron's Acres at no extra cost!
June 21, 2018
5 PM to 7 PM 
1585 Manheim Pike
Lancaster, PA 17601
Panera Bread Fundraiser
Visit Panera Bread from the hours of 4 PM to 8 PM on July 25 with the flier at this link to have a portion on your bill go towards Aaron's Acres!
July 25, 2018
4 PM to 8 PM
2092 Fruitville Pike
Lancaster PA, 17601
Life Changes Realty Mixer
On August 15, our friends at Life Changes Realty will be holding a drop-in mixer where friends of Aaron's Acres and Life Changes are invited to learn more about our cause!
August 15, 2018
4 PM to 7 PM
3002 Hempland Road, suite 2
Lancaster, PA 17601
Rogers & Associates Cocktail Hour
(21+) Enjoy the brisk fall air at The Manor on September 12. Aaron's Acres will be hosting a cocktail hour with our friends at Roger's & Associates from the hours of 6:30 PM to 8 PM. Drinks are on us!

September 12, 2018
6:30 PM to 8 PM
2025 Lititz Pike
Lancaster, PA 17601
Volley For Kids
Our longest running annual fundraiser is back! The 18th Volley For Kids event will convene at Franklin & Marshall on October 28. Gather your team and join us for a rousing game of volley ball or take part in our family fun walk. Registration opening soon!

October 28, 2018
12 Pm to 5 PM
Alumni Sports & Fitness Center
929 Harrisburg AVE
Lancaster, PA 17603
Character's Pub Guest Bartender Evening
(21+) Let us fix you a drink at Character's Pub! On November 8, Aaron's Acres will be behind the bar ready to test our mixology skills. Character's will be donating all tips to Aaron's Acres!
November 8, 2018
5 PM to 8 PM
38 N Christian Street
Lancaster, PA 17601
Our Shining Moment:
Aaron's Acres 20th Anniversary Celebration
Over the past twenty years, Aaron's Acres has been supported by the generosity of the Central Pennsylvania region. We invite you to join us in celebration as we reflect on twenty years of success. Registration is now open!