Accessible Events
Traditional events can be a bit overwhelming for children with special needs. Flashing lights and loud sounds can hinder the family experience of going to a movie or seeing a show. Our Accessible events catalog connects you with a network of sensory friendly and accessible events for families with children with a developmental disability.
---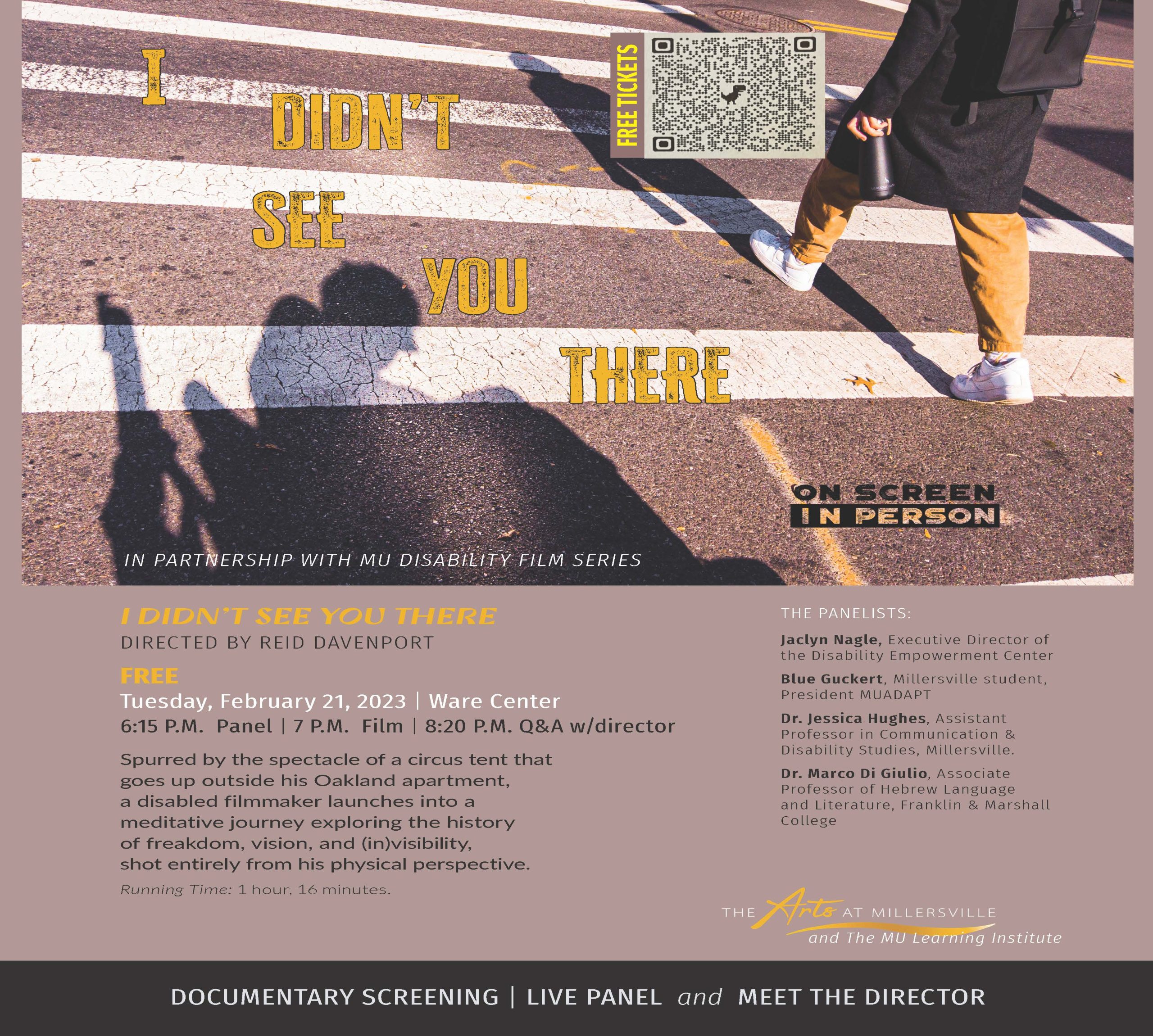 Filmmaker Reid Davenport, a wheelchair-user with Cerebral Palsy, won the 2022 Sundance Film Festival Documentary Directing Award for his film I DIDN'T SEE YOU THERE. And now, Reid and his movie are coming to the Ware Center on Tuesday evening, February 21 as part of their On Screen/In Person film series!
You don't only get to see this multiple-award-winning film but experience a thought-provoking panel discussion before the screening and a post-screening Q&A with director Reid Davenport himself. The film will be captioned. Details can be found on the flyer, along with a QR Code to scan for your FREE tickets. (Three of the four panelists have clear connections to the content of the film. Dr. Di Guilio of Franklin & Marshall, was invited because of his personal interest and research in disability.)
More information on Reid and his film can be found below:
I DIDN'T SEE YOU THERE
As a visibly disabled person, filmmaker Reid Davenport sets out to make a film about how he sees the world, from either his wheelchair or his two feet, without having to be seen himself. The unexpected arrival of a circus tent outside his apartment in Oakland, CA leads him to consider the history and legacy of P.T. Barnum's Freak Show and its lingering presence in his daily life in the form of gawking, lack of access, and other forms of ableism. Informed by his position in space, lower to the ground, Davenport captures indelible images, often abstracted into shapes and patterns separate from their meaning. But the circus tent looms in the background, and is reverberated by tangible on-screen interruptions, from unsolicited offers of help to careless blocking of ramps. Personal and unflinching, I DIDN'T SEE YOU THERE forces the viewer to confront the spectacle and invisibility of disability. Offering both a perspective and stylistic approach that are rarely seen, Reid brings an urgently needed storytelling eye to filmmaking with a documentary that is powerful and emotional, thoughtful and raw, intimate and political.
REID DAVENPORT
Reid Davenport makes documentaries about disability from an overtly political perspective. Reid's feature film, I DIDN'T SEE YOU THERE, won the Directing Award for U.S. Documentary at the 2022 Sundance Film Festival. The film won the Grand Jury Prize at Full Frame Documentary Film Festival and the McBaine Bay Area Documentary Award at the San Francisco International Film Festival. The film has been hailed by critics as "first-person poetry in captivating motion, expressed with a singular, assured artistic voice" and a "must-see." Reid was a 2017 TED Fellow and gave a TED Talk about incorporating his own literal body into his filmmaking. His work has been featured by outlets like NPR, PBS, The Washington Post, MSNBC, and The Chronicle of Higher Education. Davenport received a Master of Fine Arts in Documentary Film & Video from Stanford University in 2016, and a Bachelor of Arts in Journalism and Mass Communication from The George Washington University in 2012.
---
Teaching Strategies for Individuals with Down Syndrome
*Virtual and In-Person
Virtual Registration: https://gigisplayhouse.org/educator-symposium/
In-Person Registration (limited): https://gigisplayhouse.org/lancaster/sfcalendar