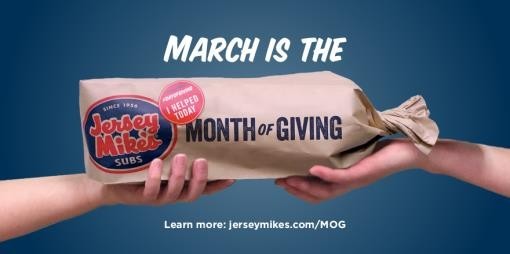 EAT A SUB: MAKE A DIFFERENCE
Jersey Mike's Partners with Aaron's Acres Kicks off 10th Annual March "Month of Giving"
We are excited to announce that Aaron's Acres is once again the local charity partner at Jersey Mike's Subs in Lancaster, PA during its Month of Giving campaign throughout March!
Grab a sub and join us on Sunday, March 1st at Jersey Mike's on Fruitville Pike to kickoff the 10th Annual Month of Giving!
Last year, Aaron's Acres raised $13,384.18 at Jersey Mike's on Fruitville Pike throughout the month and this location was 5th in the nation out of 1,504 Jersey Mike's locations. We hope to see you all out again this year!
SAVE THE DATE: On Wednesday, March 25th, Jersey Mike's Fruitville Pike will celebrate a "Day of Giving". Aaron's Acres will receive 100% of a store sales on this day.
PLACE A GROUP ORDER IN ADVANCE: If you would like to place a group order for "Day of Giving" on March 25th, please do so in advance by calling Jersey Mike's Fruitville Pike at (717) 826-9389. Please provide all order details, include your preference for pick-up or delivery and time.
Stop by the local Jersey Mike's in Lancaster, PA, enjoy a delicious sub meal any time throughout the month of March and support Aaron's Acres!
When you stop in, you can make a general donation or round-up your bill to make a donation. There will be "I DONATED" sheets available for those who donate to be displayed on the walls. Let's see how many we can fill out to decorate the inside of Jersey Mike's Fruitville Pike!
For more information about Jersey Mike's Subs Month of Giving, please visit: www.jerseymikes.com/mog.
About Jersey Mike's Subs:
Jersey Mike's, a fast-casual sub sandwich francise with more than 2,000 locations open and under development nationwide, believes that making a sub sandwich and making a difference can be one and the same. Jersey Mike's offers A Sub Above®, serving authentic fresh sliced subs on freshly baken bread – the same recipe it started with in 1956 – and is passionate about giving back to its local communities. For more information, please visit www.jerseymikes.com or follow Jersey Mike's on Facebook (facebook.com/jerseymikes), Instagram (instagram.com/jerseymikes), and Twitter (twitter.com/jerseymikes). Join the conversation at #JerseyMikesGives.