Special Events
Every year, Aaron's Acres teams up with partners and other third parties to hold several special events and fundraisers. These events allow us not only to talk about the work we do, but also afford our staff, volunteers, and participants the opportunity to give back to the community that continues to give us so much. Below you'll find a comprehensive list of the special events we hold on a regular basis.
---
If you'd like to participate in our next event or suggest a new opportunity, drop us a line!
---
Aaron's Acres organizes special fundraising events each year to bring awareness to our mission and financial support to our programs and participants.  Volley for Kids, a volleyball fundraiser, started in 2000, and the first Golf Tournament was held in 2011.  Opportunities for sponsorship, in-kind donations, and registration associated with these fundraisers are part of our Partners in Possibilities Giving Program.
To learn more about these established events and ways to participate, please select a link above.
---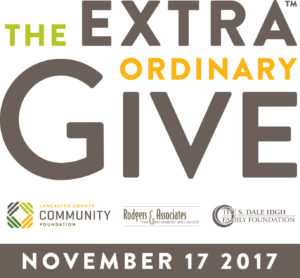 Thank you to everyone who donated to Aaron's Acres in 2016 during the ExtraGive (Lancaster County's largest Day of online giving) and stopped by The Ware Center on November 18th! We raised $22,724.58 in 24 hours for our organization.
---
We partner with Penn Cinema who offers Sensory Sensitive shows on the first Saturday of each month at 10am. Lights will remain on and the volume will be turned down to provide a safe and comfortable viewing experience for all.
---
First Friday
Join us for a drink on Friday, October 6th from 5:00 pm – 9:00 pm at Life & Legacies (52 N. Prince Street).

---
Happy Hour at Annie Bailey's
Join us on November 1st from 5:30 pm – 7:30 pm. Come out and have a signature drink!
---