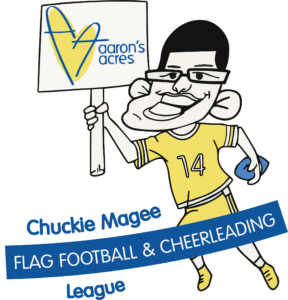 Chuckie Magee Flag Football & Cheerleading League
Aaron's Acres is excited to announce a new partnership with the Chuckie Magee Flag Football & Cheerleading League for participants, ages 21-40 with disabilities, beginning this August.
Aaron's Acres strives to provide meaningful year-round recreational programming to individuals, ages 5-21, with disabilities and their families. As the organization grows, it is our goal to expand programming to reach individuals with disabilities through age 30.
For Flag Football & Cheerleading, individuals are accepted through age 40, as this group existed prior to its becoming an Aaron's Acres program.
Flag football games will be held on 10 Saturdays from 10:00AM to 12:00PM at Manheim Brethren in Christ Church. Pastor Corby looks forward to welcoming you at Manheim BIC!
The Chuckie Magee Flag Football & Cheerleading program accepts adults, ages 21-40 with varying disabilities. Registration will open in the summer of 2022. There is no fee to register.
We are looking for volunteers who wish to support participants on each Saturday game day! If interested, please contact Randy Samuels at cmffl@ptd.net. Volunteers must be at least 16 years of age.
---
More about Chuckie Magee
Chuckie Magee attended Aaron's Acres camp program when it was first established in 1998. Chuckie's mom, Bev was a member of the founding committee of Aaron's Acres. Chuckie greeted everyone with a huge smile and a warm embrace. He "just had" to say hi to everyone and make them feel comfortable at Aaron's Acres! He was a camper for many years and passed away in 2015 at the age of 23.
His memory remains with so many in the community. Having fun, being with friends, feeling excited and being happy describes Chuckie and also describes this program.
If you're looking for a fun activity with friends, consider joining the Chuckie Magee Flag Football League or Cheerleading program!