On Wednesday, April 21st at 5:00PM, Aaron's Acres is hosting a virtual panel discussion about disability planning. Join the discussion with Zoom to hear from specialists in the areas of legal & tax planning, financial planning, waivers and parent advocacy.
Click here to Register in Advance here.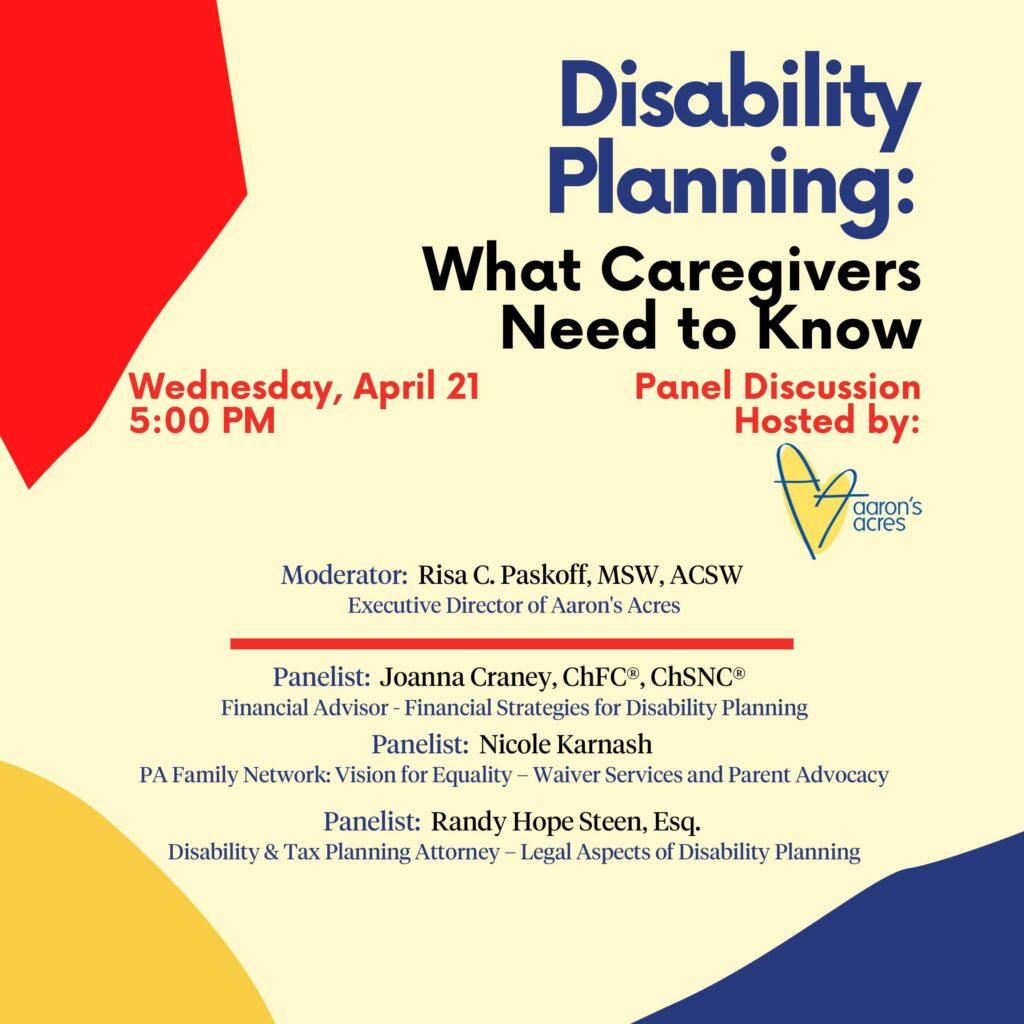 We are excited to introduce you to the knowledgeable and passionate group of panelists for this discussion:
Panelist: Joanna Craney, ChFC, ChSNC
Financial Advisor – Financial Strategies for Disability Planning
Growing up with siblings affected by Down syndrome and mental illness, Joanna is keenly aware of the unique challenges involved in caring for loved ones within the disabilities community and the specialized planning process necessary to ensure a secure financial future for those living with physical and/or mental disabilities. Joanna joined 1847Financial in 2015 and with ten years of experience in the financial services industry has the knowledge, organization and client-focused mindset that make her the financial advisor she is today.
Aaron's Acres is the 2020 Charitable Partner for 1847Financial. This includes a 2-year commitment of support and partnership. We are excited to work with 1847Financial – a company who is dedicated to the community!
Learn more about 1847Financial here.
Panelist: Nicole Karnash
PA Family Network: Vision for Equality – Waiver Services and Parent Advocacy
The PA Family Network was created under the leadership of Vision for Equality and is supported ODP as part of PA's Community of Practice: Supporting Families Throughout the Lifespan – NASDDDS. The PA Family Network provides workshops, networking opportunities and individual mentoring sessions throughout Pennsylvania, led by trained Family Advisors. Services help families learn what they need to know and develop supports.
Learn more about the PA Family Network here.
Panelist: Randy Hope Steen, Esq.
Disability & Tax Planning Attorney – Legal Aspects of Disability Planning
Mrs. Steen is the proud parent of a daughter with rare special needs and an expert on Special Needs Trust and Tax Planning. This unique perspective helps to create a compassionate comfortable environment for families to address the sensitive issues when faced with future planning for their loved ones with disabilities.
Learn more about Randy and The Law Office of Randy Hope Steen, Ltd. here.