Aaron's Acres Events
There's always something going on at Aaron's Acres! Check out our upcoming events below, and get more details on special events through the menu on the right.
Aaron's Acres is committed to creating event resources for families with children of varying ability levels. Our Accessible Events tab features events in the Central PA area that are geared towards children with special needs. If you have an event you would like to add to our Accessible Events guide, please contact Events & Communications Coordinator, Gabriella Kime Toews, at gabriellakimetoews@aaronsacres.org.

---
Upcoming Events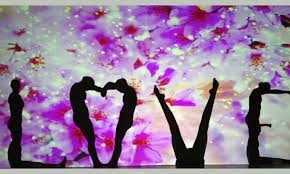 FREE creative hands-on activities for kids beginning at 2!
FREE post-show workshop!
FREE parking anywhere on campus!
Golden Buzz winners on America's Got Talent – The Champions, THE SILHOUETTES present LOVE HAPPENS, a shadow-dance story told only through shaped images created with dancers' bodies, filled with all kinds of love – friendship, family, pets, romantic love – even the love of chocolate! The performance can be enjoyed by Deaf children and those with limited or no English as there are no spoken words in the show. An ASL interpreter will be sign for the curtain speech before the performance and at the end during a FREE optional "Power of Yes" workshop in which audience members are invited on stage to learn to make shadow stories, and much more.
FREE tickets available for Aaron's Acres families and staff. For FREE tickets, simply email Barry.Kornhauser@Millersville.edu.
Events that benefit Aaron's Acres and/or our participants!